Here is a look at some of the latest in drone products, technology and other updates.
First, the latest offering from DJI, the world's largest and most famous drone manufacturer, is the Phantom 4 camera drone, an interesting package of advanced drone tech and the best features ever.
Chinese aerial vehicles manufacturer DJI has launched its latest smart camera drone technology – the Phantom 4 – which is expected to be available for preorder with a price tag of $1,399, directly via the company's official website and exclusively on Apple's online retail store. […] The Phantom 4 comes with many interesting features and intelligent capabilities such as the ability to follow users automatically wherever they are, and the ability to avoid obstacles on its own. – Read more at: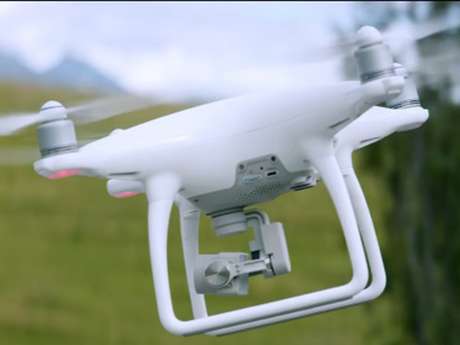 One review of this latest in the Phantom series is all raves about it: DJI's Phantom has been our favorite model of drone for the last few years, but this latest version doesn't merely hold onto the mantle as the best unit you can buy. By adding computer vision and fully autonomous capabilities, the Phantom 4 has dramatically raised the bar on what is possible with a consumer caliber camera drone, both for complete amateurs who want to start flying and for professionals who are crafting complex and dangerous shots. – Read more:
Another review is a bit skeptic though. While the drone handled pretty much as DJI said it would, and was pretty easy to fly after a few minutes' practice, it's still probably not going to be the drone that anyone could—or would—fly. It's still just a bit too finicky to use. That being said, it'll be a great upgrade for any photographers looking to incorporate an intelligent flying camera into their arsenal. – Read more at:
Every serious photographer should really consider having the DJI Phantom 4 camera drone as an awesome addition to their collection especially for those providing drone photography services.
Drones are no longer strange flying objects, as more of them are flown into the skies each day. The popularity of these small drones just keeps soaring – and it's interesting to know when they were first used and by whom.
The Austrians were the first to use a primitive type of aerial drone in 1849, but in more recent decades, technology has gotten smaller, less expensive, more reliable and far more user friendly. Later adopted by the military and law enforcement for defense and security purposes, drones recently entered the private market. For less than $1,000, shoppers can buy a variety of drones, including a DJI Phantom at the nearest hobby shop or electronic store. – Read more here:
However, as with any advancement in science & tech, drones are not immune to abuse, such as this story  shows.
Prisoners tried to escape from a jail by flying in a pair of bolt cutters on board a drone.
The aircraft's remote operator unloaded the tools near the prison's perimeter fence.
There have been other such stories of how drones are used with malicious/criminal intent. These on top of the almost regular occurrence of near collisions between commercial planes and drones.
As this article says, with the popularity of drones, benefits and dangers emerge.
Check out the amazing items below if you are interested in purchasing a drone :