Delivery drones are gradually getting FAA's approval for test deliveries, and the latest to ask is a Nevada startup which recently did a successful test run. Now, Amazon's Prime Air has found a new rival, Flirtey.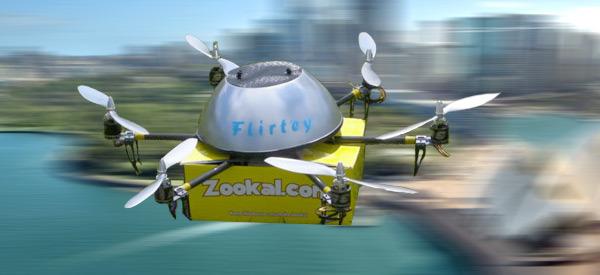 On Friday, startup Flirtey successfully completed the first fully autonomous drone delivery in the United States. Its drone flew about a half mile to deliver a small package to the doorstep of an uninhabited house in Nevada – one short flight for a drone, and one giant leap for drone delivery. – Read more here:
Watch the video below:
 And this of course brought good news to the state. "I am thrilled that Flirtey is not only testing its cutting-edge technology in Nevada, but also creating jobs through its headquarters' relocation to Reno," said Nevada Governor Brain Sandoval.
Flirtey had already made the first FAA-approved rural drone delivery in July 2015 to a health care clinic in rural Virginia. – Read more at:
Here are some details of Flirtey's flight, as reported by Popular Science:
Its six-engine multicopter flew along a predetermined path. When it reached the target house, it lowered a package containing bottled water, emergency food, and a first aid kit. The house was uninhabited, as the flight was a demonstration of what a rescue drone might be able to carry to people in need. Flirtey already conducted a rural delivery test, so it makes sense that urban was next, even if that "urban" is defined as a fairly small town. According to Flirtey CEO Matthew Sweeney, 86% of packages are 5.5 pounds or less, and that the drone is designed to carry payloads that size up to 10 miles away. – Read more at:
The company has been actively pursuing its R&D program on drones, in cooperation with the Nevada Advanced Autonomous Systems Innovation Center at the University of Nevada, Reno. (NBC news)
Drones have gone a long way from just plain flying gadgets for the sake of flying; their usefulness ranges from aerial photography services, videography, search-and-rescue operations to agricultural purposes, among others
At this stage, while they are not officially up in the skies yet, we can already see a hint of brisk business competition up in the air.
Check out the amazing items below if you are interested in purchasing a drone :