Camera drones, or drones to which cameras can be attached have become so common, but a flame-throwing drone?
News were abuzz with reports of a teen who built a flame-throwing drone for none other than to roast a turkey.
The report from the NY Daily News said Austin Haughwout, a 19-year-old from Clinton, Conn., has drawn the attention of law enforcement for building a flame-throwing drone that has the potential to roast turkeys.
The young man seemed to have a penchant for catching public as well as police attention to himself. In July, the report also said, Austin made headlines after a video of his modified drone capable of firing a hand gun went viral. – Read more at: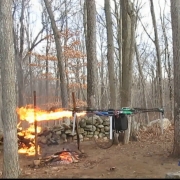 Another report, from RT.com, said under international laws, no laws exist that prohibit the use by civilians of devices they can attach to their drones, such as this. In fact, the report said, US federal law does not forbid private ownership of a flamethrower.- Read more at:
Austin's video, with his caption "This is how to roast your holiday turkey," went viral, thus prompting a local news channel to report the matter to the police, and raising concerns from drone advocates. The local police said in a statement to the local news channel they "have no comment on this matter, at this time."
Watch the video below:
The local news report said some drone advocates say Haughwout's actions are careless and irresponsible, and are hoping legislators will take notice and perhaps change the rules.
"Anyone who does anything of this nature or a similar nature is operating unsafely and irresponsibly, and I certainly would not condone it and I would certainly chastise it as would any responsible operator," said drone advocate Peter Sachs. – Read more at:
The Verge said in its report the video was backed by HobbyKing, an online retailer that sells all kinds of parts for DIY drones.
Many users of toy drones simply enjoy flying their unmanned aerial vehicles (UAVs), but some of them including drone hobbyists interested in aerial photography, and some with commercial intent of using drones for aerial photography services, attach cameras to their aircraft. These days, one can choose to buy drones with built-in cameras that range from $100 to $1000 and up.
In recent times, however, other contraptions have been attached to drones. More on this in another post.
Check out the amazing items below if you are interested in purchasing a drone :